Wigston Meadows
Newton Lane, Wigston, WIGSTON, LEICESTERSHIRE, LE18 3SH
Have a question about one of our homes? We're happy to call you and talk through any queries you may have. Simply enter your phone number below and let us know the best time to call. We'll be in touch within 24 hours. If we can't get through to you by phone, we'll send you an email.
To find out more about Wigston Meadows, please enter your details below so we can email you a brochure.
Sign up now to stay up to date with new releases and special offers via email on this development and others close by from our brands Barratt Homes, David Wilson Homes and Barratt London. If you'd also like to receive updates by SMS, please provide your mobile number. You can unsubscribe at any time - please see our privacy policy for more.
Wigston Meadows features a collection of 3, 4 and 6 bed homes, close to open space, OFSTED rated 'outstanding' schools, great commuter links, and all the essentials you need on your doorstep. Ideal for families looking to become part of a new community.

You will also be just a 5-minute drive from Wigston town centre as well as 5.4 miles away from Leicester City centre.
5 homes sold in 4 weeks
Move in for summer
Home to sell? Ask about Part Exchange Xtra

Plenty of open space on the development

Allotments on the development

Leicester city centre just a 15-minute drive away

20 minutes from Foxton Locks canal walk

Trains direct to Birmingham New Street in 50 minutes

Save on your energy bills with a new home

10 year NHBC structural warranty

5 star homebuilder for 12 years in a row
Images include optional upgrades at additional cost
Huge Savings
Save over £15,000
Alderney, plot 54, from £399,995
This 4 bedroom detached home overlooks green open space, has French doors onto the garden and includes a home office, and a garage. Save over £15,000 with upgrades and extras.
Click to find out more
Our Sales Office opening hours are... Monday 12.30pm - 5.30pm, Thursday - Sunday 10.00am - 5.30pm
Featured new home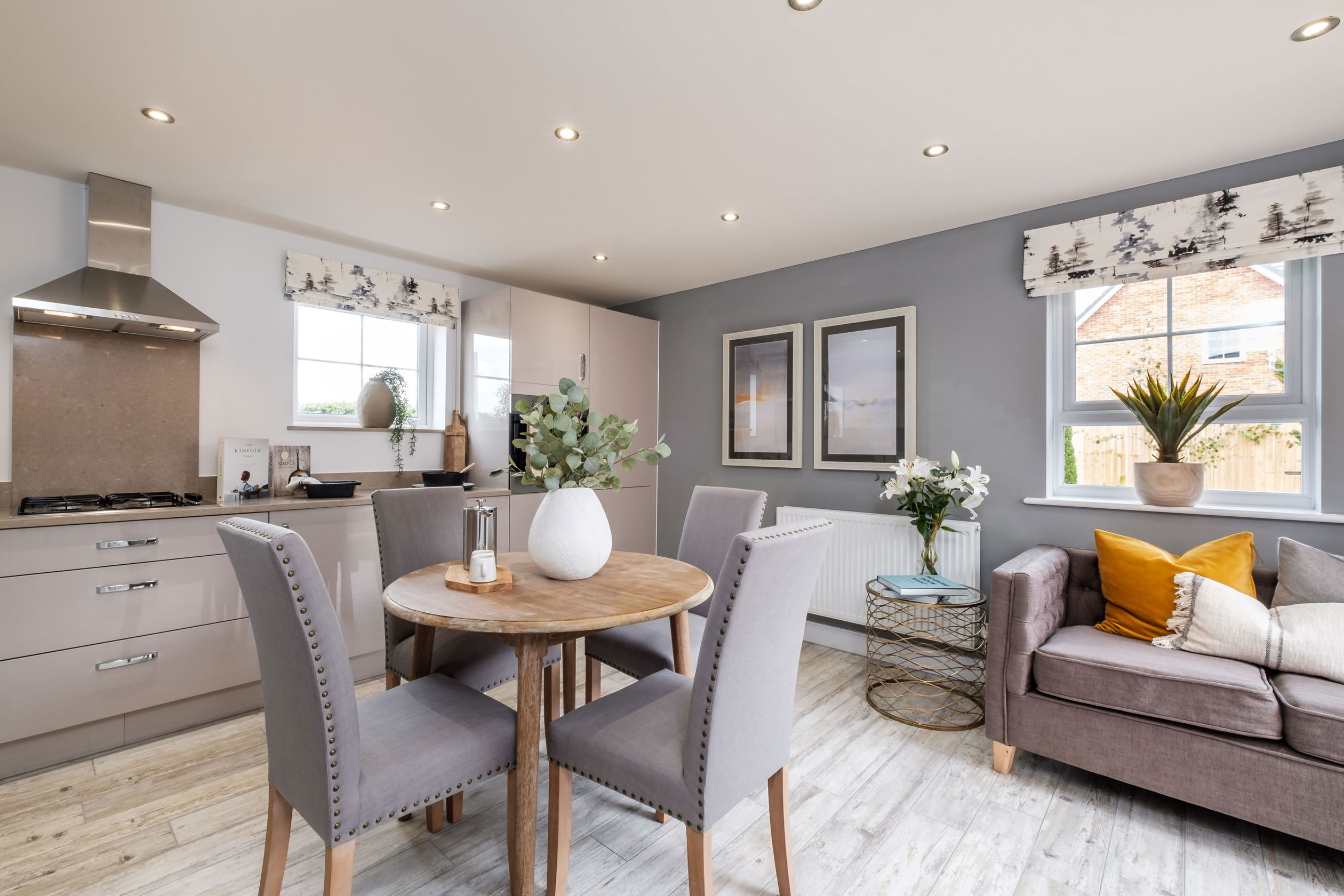 Plot 54 | Alderney 4 bedroom home | From £399,995
Featuring an OPEN PLAN kitchen with FRENCH DOORS onto the garage, an EN SUITE on the main bedroom and a DETACHED GARAGE.

Plus, 6 months mortgage paid, an upgraded kitchen kitchen package and flooring throughout worth over £17,000.
Click to find out more.
Part Exchange Xtra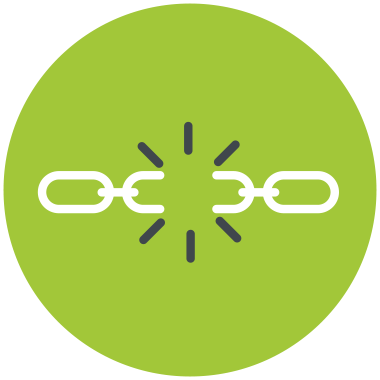 Part Exchange Xtra is an offer designed to get you moving. We'll nominate an estate agent for you to instruct on the sale of your current home. They'll handle all viewings and enquiries, which means one less thing to worry about. And if your home doesn't sell, we could buy it for fair value, based upon a presumed sale within eight to ten weeks.
Click here to find out more.
Terms & Conditions
Scheme Detail and Acceptability of Property
1. In addition to the terms and conditions set out below, the Scheme is subject to:
1.1. all terms, conditions, restrictions and provisos set out in your Offer Letter, and
1.2. the terms of your reservation agreement with us (on the reverse of the Reservation Form) which explains the circumstances in which we may retain part of your reservation deposit.
2. Part Exchange Xtra is only available on selected plots and developments. Part Exchange Xtra will only be available where the home being traded in is no more than 70% of the selling price of the plot being purchased.
3. Part Exchange Xtra is only available up to a maximum value of £300,000 for your existing property.
4. We are under no obligation to accept your property under the Part Exchange Xtra Scheme. It should not be assumed that all properties are suitable and acceptance is at our sole discretion. We reserve the right to refuse your property under the Scheme and we are under no obligation to give reasons why. All valuations and decisions are final.
5. Our agreement to accept your property under the Part Exchange Xtra Scheme is subject to any necessary further enquires or reports.
Payments
6. If prior to completing the Part Exchange Xtra application you have already incurred costs (e.g. estate agents or legal fees) Barratt Homes will not reimburse these costs.
7. A £100 administration fee is payable by the customer upon completion of the Part Exchange Xtra application form. This reserves the designated plot for the customer for 7 days and is fully refundable unless and until Barratt Homes incurs any fees in connection with your purchase and/or sale under this Scheme.
8. We agree to pay;
8.1. the commission plus VAT of one estate agent for marketing and selling your existing property provided you legally complete on the purchase of a new Barratt home.
8.2. any abortive costs of any unsuccessful agent we nominate, provided this shall not include any multi-agent commission which you incur without our explicit written consent.
9. Prior to any Part Exchange Xtra application, the customer must be financially qualified by a New Homes Mortgage Adviser to proceed with the intended purchase of the new Barratt home.
10. You must complete our Part Exchange application form. Within 3 working days of this 2 independent RICS qualified surveyors will value your existing home. You agree to co-operate with these RICS surveyors to ensure accurate and prompt valuations.
11. The RICS valuations of your home will be on the basis of a sale within a 8 to 10 weeks. The maximum amount we will offer in part exchange for your existing home will be 98% of the average of the two RICS market valuations If there is a discrepancy of more than 10% between the RICS valuations we will appoint a third RICS valuation and any offer will be the average of the two closest valuations. 12. If your property qualifies for the Scheme, on acceptance of your property under the Scheme we will issue you with an Offer Letter and nominate up to two estate agents to act on your behalf. You will then;
12.1. complete and sign our Reservation Form, and
12.2. enter into an agency agreement with the nominated estate agent/s, instructing them to market your property on the basis agreed with us and set out in your Offer Letter.
13. You will exchange on the basis of the Sale Agreement
14. if prior to, or within 25 working days of our confirming to you that Roof Stage has been reached you exchange agreements with a third party for the sale of your existing property.
14.1. the provisions relating to part exchange in the Sale Agreement will no longer apply and the transaction will proceed on the basis of a plot sale only and without any right or obligation for us to acquire your property; and
14.2. your solicitor will be obliged to give to our solicitor notice in writing simultaneously with agreements being exchanged in relation to the sale of your property to a third party.
15. As of the PXX Date:
15.1. the nominated estate agent/s will no longer act on your behalf and you will no longer instruct them; and
15.2. we reserve the right to market your property and you agree to;
15.2.1. allow reasonable access to the property to facilitate the resale (subject to agreed appointments)
15.2.2. the erection of a "for sale" sign at your property
15.2.3. ensure your property is kept clean and tidy and in a presentable condition at all times to facilitate viewings to potential purchasers.
16. Exchange of contracts on your new Barratt home purchase shall take place on the date specified on the Reservation Form irrespective of whether a purchaser has been found for your existing property.
17. Prior to the PXX Date any offers shall be conveyed to you via the nominated estate agent/s. You will notify us of any offers made on your existing property as soon as reasonably practicable and in any event within 1 day. You give us irrevocable consent to liaise with the nominated agent/s during the period in which they are appointed under the Scheme by you.
18. It is Barratt Homes' intention that if by the PXX Date your solicitor has not served a notice as referred to under clause 14.2 BDW Trading Limited will purchase your existing home and take legal title to it prior to selling it on to a third party, to allow you to purchase a new Barratt home. If you withdraw from the transaction and Barratt Homes has found a prospective buyer for your home, Barratt Homes will not make an introduction between you and the prospective buyer.
19. Solicitors will ask that you complete the Property Information Questionnaire and Form (PIQ/PIF). As Barratt Homes has no firsthand knowledge of your existing home the company will have to use these same PIQ/ PIF forms for presentation to a subsequent purchaser for your existing home. You confirm that you will complete these forms accurately and acknowledge that a future purchaser will rely upon your answers and that legal action may be taken against you if you are found to have given false information.
20. Your solicitor will be obliged to supply title details and other supporting document in relation to your property to our solicitor prior to exchange of the Sale Agreement. If you accept an offer from a third party for the sale of your property your solicitor will also need to supply a draft agreement, title and supporting documents to the solicitor acting for that party
Barratt Homes General Terms and Conditions
Any promoted Barratt offer is subject to contract and status. Offers are on selected plots only and are subject to availability. The offers advertised cannot be used in conjunction with any other offer on the same plot unless expressly stated otherwise. Prices and details are correct at time of going to press. All images are typical of Barratt homes and are for illustrative purposes only. Please contact the development in which you are interested for further details.
Barratt reserve the right to withdraw or alter any of these offers at any time prior to the payment of a reservation fee. Contracts must be exchanged within 28 days of reservation of your property. Failure to do so may result in the loss of all or part of your reservation fee.
The current specific offers being advertised in relation to selected Barratt developments are also subject to the specific terms and conditions set out above (N.B. these offers may vary from time to time and you should refer to the development in which you are interested to discover which offers are available on specific plots and developments).
Barratt will not be liable for the refusal of a mortgage based on the borrower's individual circumstances which leads to the loss of any reservation fee. Barratt will not be responsible for the failure of any deal due to any defects in your existing property which arise as a result of an inspection or survey, whether a part exchange deal has been agreed or not. These terms and conditions do not affect your statutory rights.
Barratt Homes is a brand name of BDW Trading Limited (Registered Number 03018173) which is a subsidiary of Barratt Developments PLC (Registered Number 00604574) both with registered offices at Barratt House, Cartwright Way, Forest Business Park, Bardon Hill, Coalville, Leicestershire, LE67 1UF. If you require a mortgage, you are strongly advised to obtain advice from a regulated adviser. Barratt Homes recommends from a panel of New Home Mortgage Advisers who have extensive knowledge of the new build mortgage market, though you may, of course, seek such advice from your own mortgage adviser.
YOUR HOME MAY BE REPOSSESSED IF YOU DO NOT KEEP UP REPAYMENTS ON YOUR MORTGAGE
 'I'm very happy!' 
"I've been looking at Wigston Meadows development for over a year and finally moved to our home. Sam has been a star and I'm very happy with my Ripon!"
A fantastic location
Wigston Meadows is home to plenty of green open space and includes allotments on the development. Ofsted 'Outstanding' rated schools are also close by including 'Gartree High School' and 'Glenmere Community Primary School'.
Just minutes away from your new home is Wigston town centre, whilst Leicester city centre is just a 15 minute drive away.
Living at Wigston Meadows you'll be spoilt for choice when it comes to days out with the children including Wistow Maze, King Richard III Visitor Centre, Twycross zoo, Bradgate Park and more.
Essentials on your doorstep
Those living at Wigston Meadows can enjoy a host of convenient facilities;
Wigston South train station just 3.5 miles away
Wigston Library, so you can get lost in a good book
A choice of supermarkets and high street retailers close by
Practice your swing at Glen Gorse Golf Club
A hospital, doctors surgery, dentists and a pharmacy are all within close proximity
Joseph Morris butchers is just around the corner
A great choice of pubs, where you can enjoy your favourite tipple
A choice of gyms and leisure centres close by your new home
Efficient, modern design
Our homes are designed to reduce energy use and save you money. When you walk around your new home you'll find clever features such as:
• Enhanced insulation to keep heat and reduce noise
• Argon gas-filled double glazing to minimise heat loss
• Highest efficiency-rated boilers available
• Water saving taps, showers and toilets

Find out how Barratt Homes are delivering a sustainable future for housing.