In the last year, remote working has become a new way of life, meaning many of us have created space in our home for a temporary office.
However, with flexible working set to become more of a 'norm', that short-term set-up could soon become a permanent fixture.
To help you create the perfect workspace for your tastes, we've taken inspiration from five of the world's most influential fashion houses, in a bid to showcase how your home office could look if you add a splash of style.
Whether you're a huge fan of Balenciaga's abstract approach to design, or you're dreaming of a room that represents the French luxury of Coco Chanel, use our captivating images to add some haute couture to your home.
---
Louis Vuitton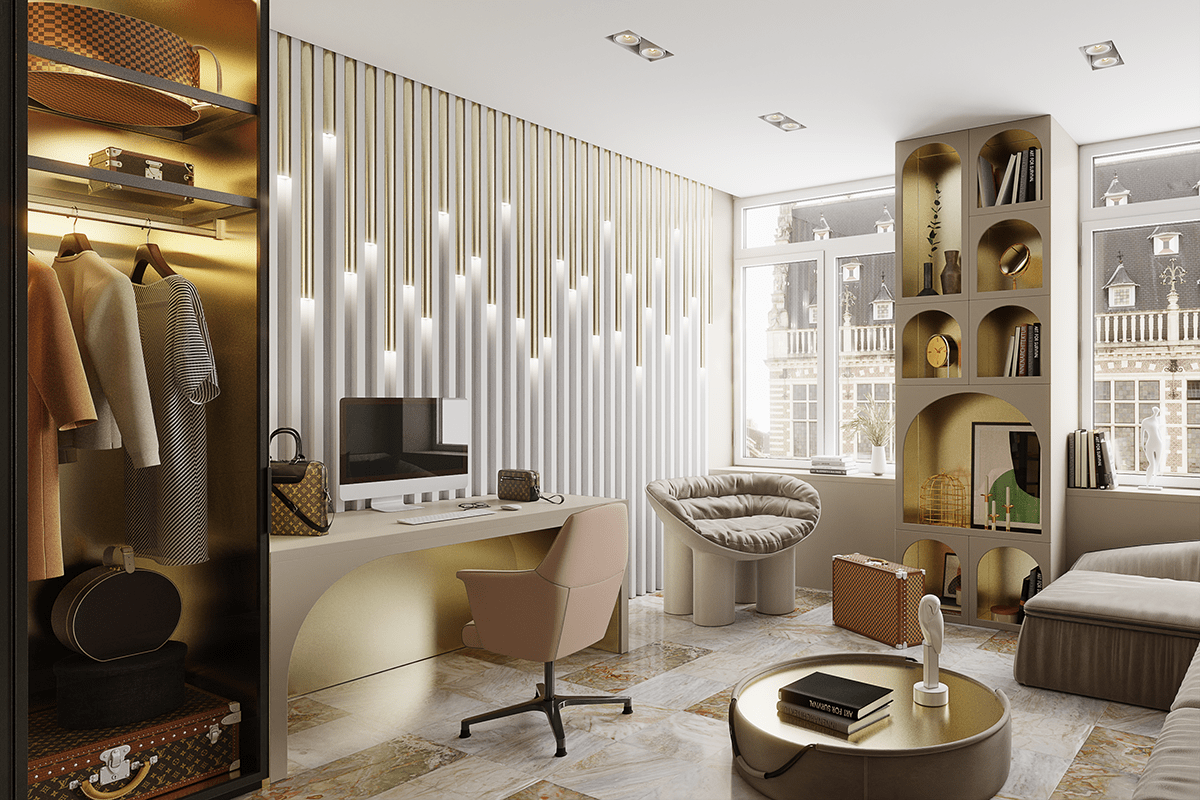 According to Forbes, Louis Vuitton is currently the most valuable luxury brand in the world, so if you want to add a touch of opulence to your office, look no further.
Taking inspiration from the brand's most iconic handbag collection, we've used a neutral colour palette and warm lighting to ensure you have a gorgeous glow on your zoom calls.
To add even more luxury, our dream design is draped with gold embellishments which you'll see on the surface of the side table and on the elegant ornaments perfectly placed on the bookshelf.
---
Balenciaga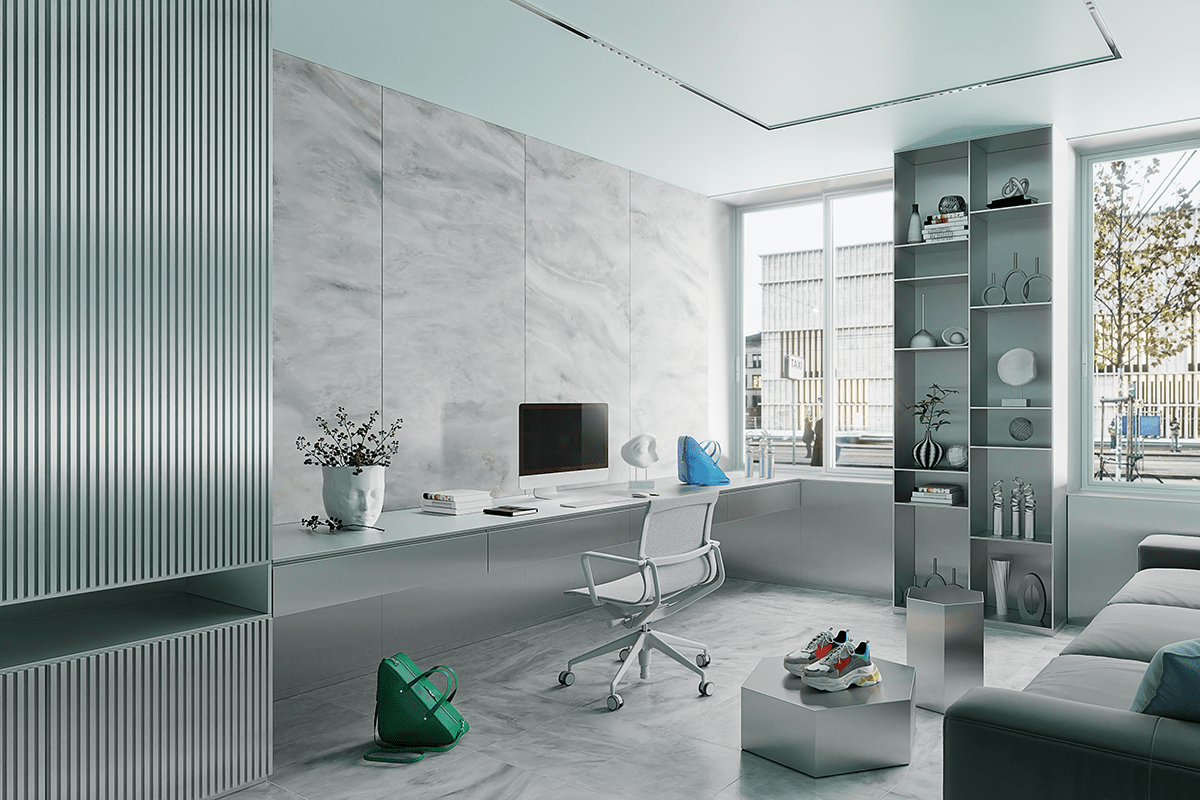 The award for the freshest, most controversial brand of the 21st century would no doubt be handed to Balenciaga.
Whilst most recently famed for footwear, the sock sneaker isn't the only ground-breaking innovation deriving from Balenciaga. The designer's namesake, Cristóbal Balenciaga, revolutionised women's clothing in the mid-20th century, pioneering new shapes and styles that shocked the fashion world.
Our home office is designed to capture the brand's vision, using bold shapes, abstract structures, along with a clever manipulation of fabrics.
---
Alexander McQueen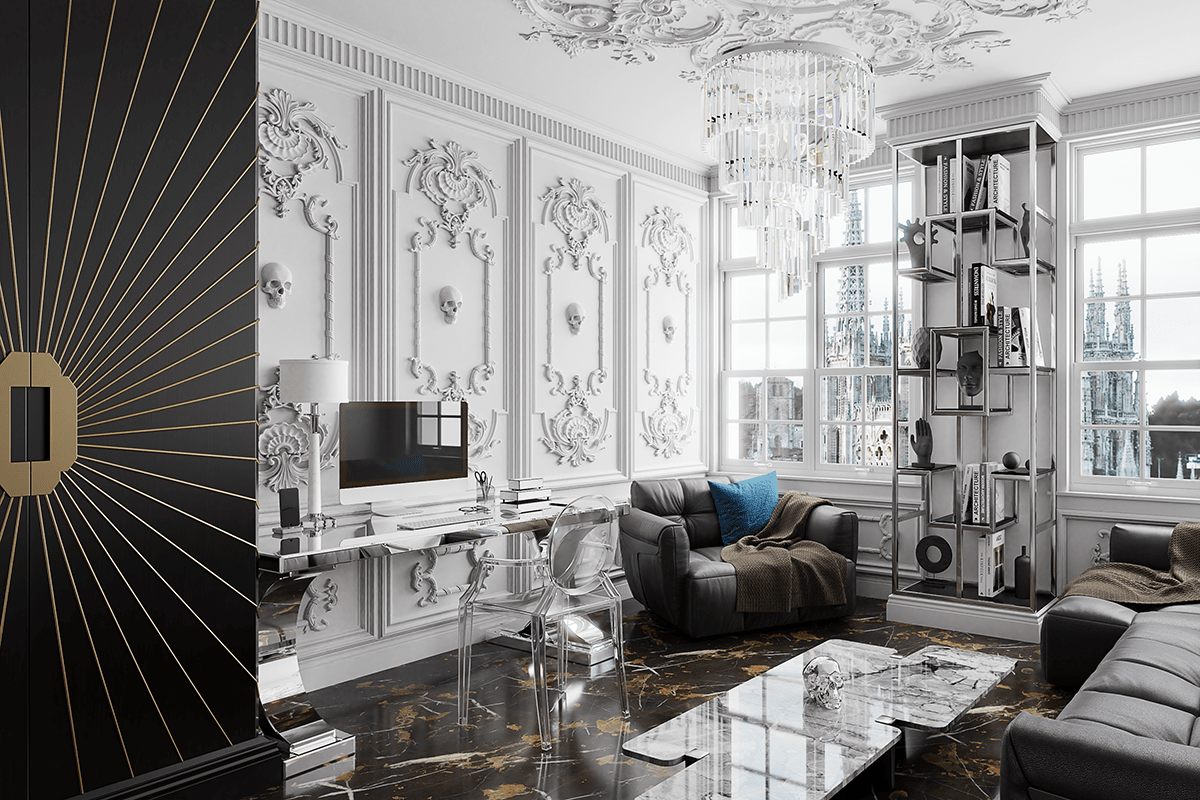 If there's one designer who's known for creating chaos on the catwalk, it's Alexander McQueen. The British designer, known as the "Fashion Rebel", had a meteoric rise to fame in the early 2000s, and his legacy continues after his passing with an infinitely stylish label.
He channelled his passion for Roman Gothic architecture and the Victorian era using dark colours, thick fabric, and metallic embellishments, which we've used to inspire our home office design.
One of McQueen's most famous designs was the iconic skull motif. The skull print scarf became the world's must-have accessory in 2003, with celebrities such as Johnny Depp and Cameron Diaz keen to try McQueen's rock 'n' roll look.
The skull motif was soon transported from the catwalk to the high street, appearing on a variety of apparel, from handbags and shoes to hoodies and t-shirts. Now, it's even featured in a home office!
---
Vivienne Westwood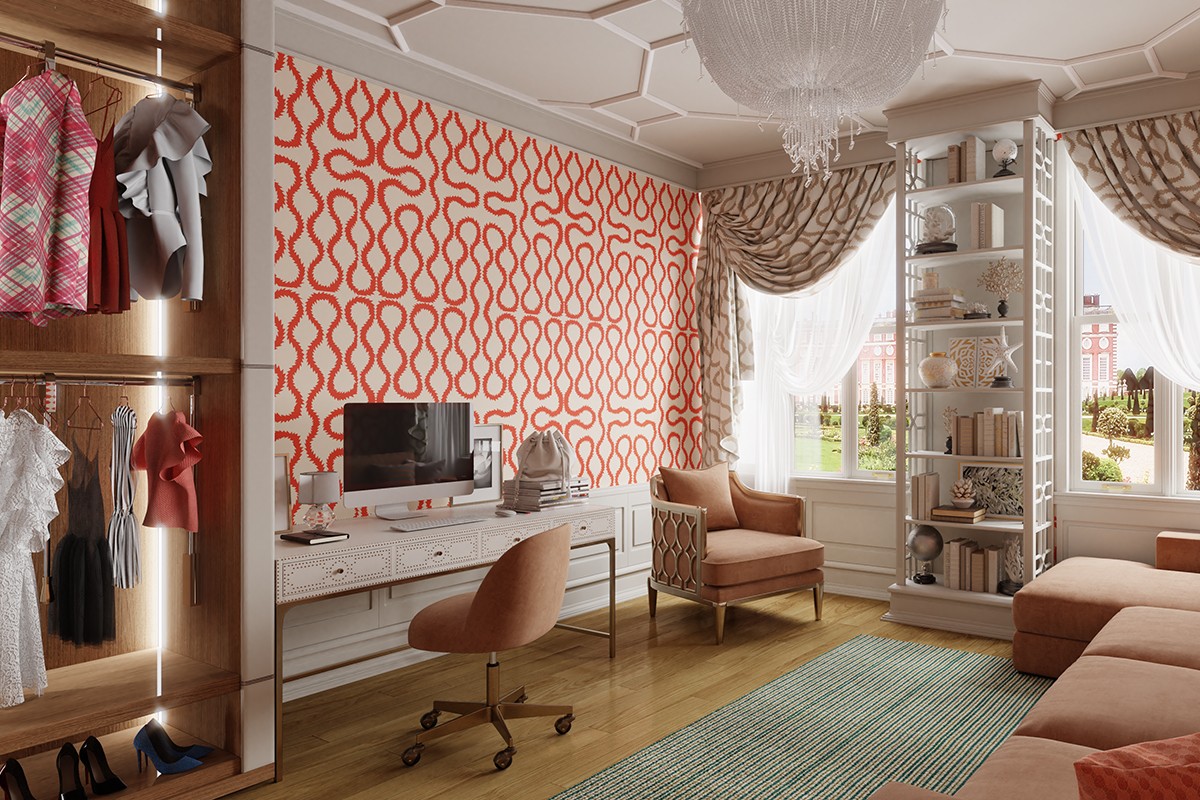 Never afraid to make a statement or stand out from the crowd, we welcome Vivienne Westwood to our home office.
A designer who combines bold fabrics and colours with a splash of luxury, it's hard to resist a piece of Westwood couture. She was a leader of the punk fashion movement in the 1980s, represented by her iconic tartan print jacket which you'll see hanging in the wardrobe.
We've also added some beautiful, draped curtains to the windows, symbolising Westwood's experimental approach to how fabric moves on, or drapes from the body.
Taking a close look at the brand's Spring/Summer 21 collection, we've teamed statement patterns with bold vertical stripes to create a powerful clash of prints.
---
Coco Chanel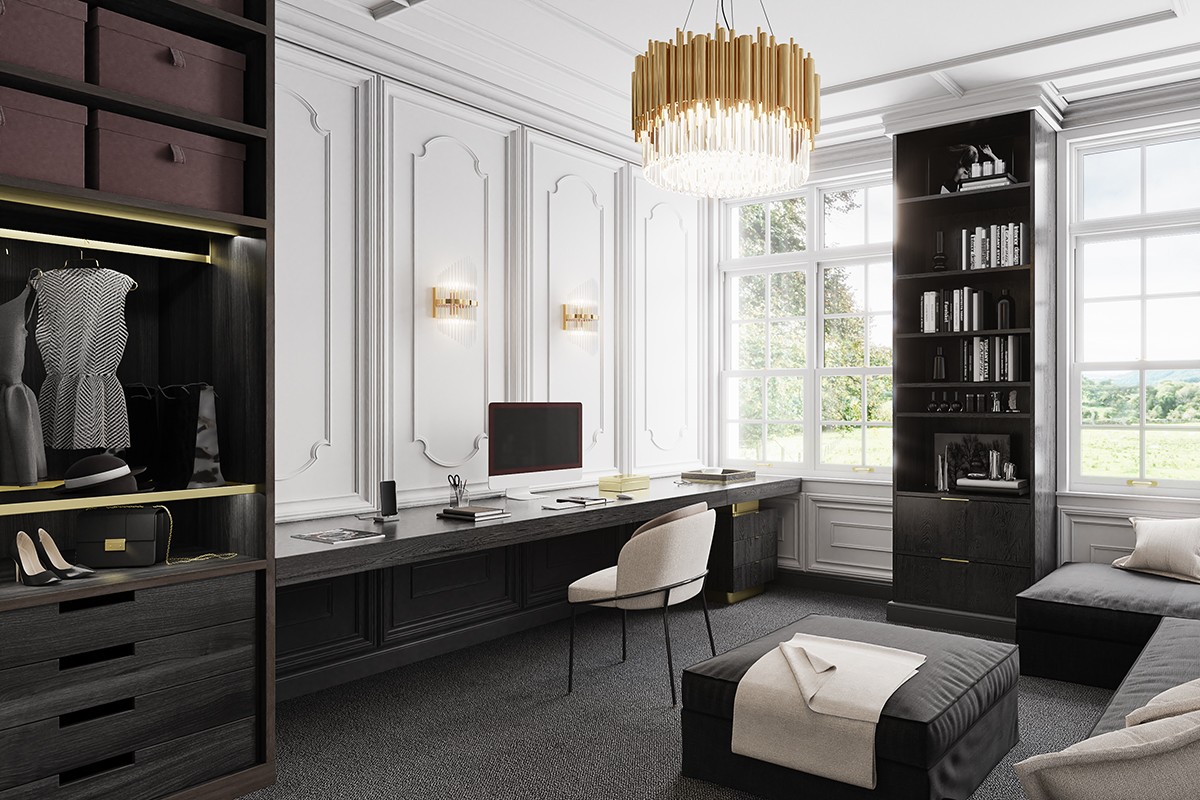 Our final design is inspired by the legendary Coco Chanel, the French fashion designer who ruled Parisian haute couture for almost six decades. In the 19th Century, Chanel's elegantly casual designs inspired women of fashion to abandon their complicated, uncomfortable clothes, such as petticoats and corsets, for jersey separates of skirts, dresses, sweaters, and cardigans.
Among her now-classic innovations are the Chanel suit, the quilted purse, and the timeless "little black dress."
Inspired by Chanel's ingenious twinning of black and white, we've created a home office to replicate her iconic style.
The dark wood creates a dramatic statement, whilst the contrasting white walls, soft ivory furnishings, and gold embellishments complete the ultimate look of luxury.
Download Images