Help to Buy England
The current Help to Buy scheme is available until March 2021, and both existing homeowners and first time buyers can benefit - Discover how it works below.
From 1 April 2021 there will be a new Help to Buy scheme for first time buyers only - Find out more here.
With Help to Buy, you could buy a brand-new home sooner than you think.
You only need a 5% deposit.
The Government lends you up to 20% of the value of the property.
The loan is interest-free for 5 years, making your dream home more affordable.
You then need to secure a 75% mortgage.
There are a range of competitive mortgage rates available with this scheme, so it's worth comparing lenders to find the best deal. We can introduce you to a New Home Mortgage Adviser who'll search the market to find you a great deal.
The scheme is available exclusively on new build homes up to the property value of:
£600,000 in England
£300,000 in Wales
£200,000 in Scotland
This page provides information about Help to Buy in England, outside of London. The scheme works slightly differently in London, Scotland and Wales. View our location-specific pages to find out how Help to Buy works where you are.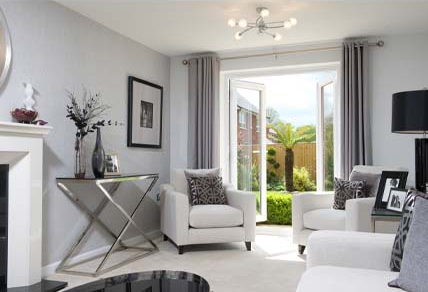 Most people know that Help to Buy is available for first time buyers, but existing homeowners can benefit too.
There are a few important conditions:
The home you buy must be your only residence.
The scheme isn't available for buy-to-let investors.
The scheme isn't available to those who will own any other property after completion.
Call us on 0330 057 6000 and we can introduce you to a Sales Adviser, who will tell you if you qualify for the scheme.
See where Help to Buy could take you
Use our Help to Buy calculator to see how the scheme could work for you, then start searching for a beautiful Barratt home within your budget.