A step-by-step guide to the conveyancing process
Whether you're new to the home buying process or simply need a quick refresher, it's good to know how the journey works.
To help you out, we've put together a handy conveyancing process step by step guide, explaining the role of a solicitor when you buy a house.
Step One: Document Reviewing
The conveyancing process starts after your offer is accepted. The seller's solicitor will send a 'contract pack' to your solicitor, containing a property information form, a draft contract and other important documents. Your solicitor will review each of the documents before sending to you. If you or your solicitor have any questions, they'll be raised with the seller's solicitor.
At this stage, you'll need to apply for your mortgage, if you haven't already. A written offer will then be sent from your lender to your solicitor to confirm that funds have been approved. You'll also sign a mortgage deed.
Step Two: Information Gathering
Next, your mortgage lender will organise a valuation survey to confirm the value of the property before committing to lending you the money. If the valuation matches up, the process can proceed. If, however, the property is down valued they may reduce how much they are willing to let you borrow and, in some circumstances, they may refuse to lend against a particular home.
The valuation survey won't tell you if there are any problems with the home you want to purchase. You will need to arrange your own independent survey for this. There are different home surveys to choose from, and they vary in price depending on how thorough they are:
RICS HomeBuyer Report (HBR)
If the property seems to be in good condition, you may feel that this type of survey is adequate for your needs. It's more detailed than the RICS Home Condition Report, letting you know of any structural issues and will cost around £400. It will also give you additional advice on defects, repairs and any maintenance required. Some issues, such as wiring problems, wouldn't be picked up though.
You can decide whether you want a survey or a survey and valuation with this type of report.
RICS Building Survey
If you're buying an older or large property, the most detailed of all the reports might be the best option for you. Depending on the size and value of the property it can cost from £500 to £1000+ for this type of survey. It will give you an in-depth analysis of the home's condition and structure, highlighting any defects or issues that need addressing. As well as advice on how to resolve and maintain the property, it should give you timescales and estimates for repairs.
Find out more about the different reports in our guide to independent house surveys.
To build up a bigger picture, your solicitor also gathers further information at this stage with searches. This includes a local authority search, an environmental search and a water and drainage search. The local authority search will show if there are any restrictions relating to the land or property, any planning decisions that could affect it and if there have been any planning permission breaches. The environmental search report will reveal if the land is contaminated, was formally a landfill site or has any stability issues, with the water and drainage search highlighting if there are any public drains on the land.
You may also need extra searches depending on the area. Your solicitor will then send a report of their findings to both you and the mortgage lender, along with the contract to be signed. If you have any questions, let your solicitor know.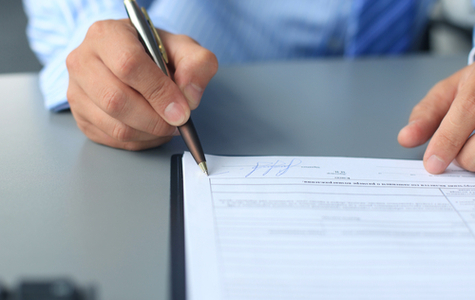 Step Three: Exchanging Contracts
Once your solicitor is happy with the searches and survey findings, a completion date will be agreed with the seller's solicitor. If things run to plan, contracts will be exchanged, and the exchange deposit will be paid – which means you're legally bound to buy – with completion usually happening between two and four weeks later once the transfer of property has been arranged. The exchange deposit is typically 10% of the purchase price. Your solicitor will send a certificate to the mortgage lender, confirming the completion date and applying for release of the funds.
Find out more about the buying process in our home buying guides.
Step Four: Completion
On the completion day, the mortgage lender will transfer your mortgage funds to your solicitor. You will need to transfer the balance of your mortgage deposit to your solicitor, and then they will transfer both funds to the seller's solicitor, paying for the property in full. Once this happens, you officially complete and you'll get the keys to your new home. You'll also receive the transfer of the property title deeds and any other important documents. Any stamp duty required to be paid will be sent by your solicitor to the Inland Revenue, along with a Land Transaction Return. You'll then receive a certificate of registration from the Land Registry.
If you're unsure about how the legal side of buying a new home works, make sure you ask plenty of questions and request a clear conveyancing process step by step guide from your solicitor.
This guide to second hand homes was produced in collaboration with Countrywide, the UK's largest and most successful estate agency and property services Group.