10 ways to maximise small spaces
Decorating any room comes with its challenges, but when you're dealing with a small space often you need to be very clever to get the most out of the room you have.
But it can be done. Small spaces can be some of the most impactful and eye-catching when done well. Here are ten tips for maximising small spaces.
1. Trick the eye
It's all in the eye of the beholder.
A clever use of mirrors in a small space will instantly make it appear bigger, opening it up and making the best use of light.
2. Choose soothing even tones
Opting for these colours will work alongside what light you have and will again fool the eye into thinking there's more space than there actually is.
Keep the main colour scheme soothing and even then throw in some subtle textures and patterns for a bit of life.
3. Go retro
If you're working with a small kitchen space, for example, opt for a retro fridge freezer rather than an imposing modern one and its associated footprint.
Classic dining chairs are traditional, lighter and smaller compared to more contemporary styles, if you're pressed for space or need your dining room to be more flexible, this is a great way to quickly reclaim some room.
Another fantastic retro solution for your dining table is benched seating, these seats fit right under your table and mean that you can push your table flush against a wall between uses.
For more storage, a classic mid-century sideboard is the perfect choice.
These narrow dressers are perfect for making the most of any additional space.
Their sliding panels and multitude of drawers mean they're great for storing items of all different sizes.
4. Light up your walls
Wall-mounted lights are a great design feature for a small space.
It'll bring in some much-needed light as well as reducing the need for additional tables to hold lamps.
5. Make the most out of your storage
Fitting sliding kitchen pantry style draws in the gaps between your kitchen cabinets will keep food essentials out of sight and make the most of any nooks and crannies in the kitchen.
Similarly, in lieu of additional or narrow cabinets, butcher's blocks are a traditional and popular way of tastefully storing spices, cooking equipment and cans of food – you can find that many of these are wheeled too, meaning that your kitchen can be more dynamic and flexible.
6. Think less is more
You want your room to be impactful, but not cluttered.
Many people think the easy way to go is with smaller furniture, but this often results in lots of little things.
Opting for bigger furniture, but with fewer pieces will create the impact you're looking for and won't clutter the space.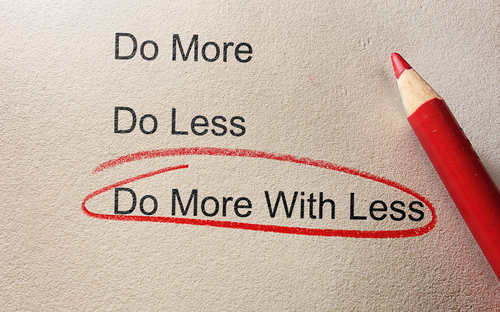 7. Use the area under the stairs
Ideal for fitted storage, or even a small workspace.
A fitted deck could be the perfect home for your family computer or a quiet place for children to complete their homework.
Again, just trying it, could transform the dynamic of your home.
8. Take things all the way up
If you have limited floor space, but higher ceilings make sure you take things all the way up.
Floor to ceiling curtains will elongate the room, whilst you can make clever storage use of the gaps above kitchen units for example.
9. Customise
This is where you can get really clever.
Instead of relying on the design specifications of the manufacturers, customising your own furniture will ensure it's bespoke for you and your life.
This could include maximising storage, creating dynamic workspaces that fold away between uses, or incorporating additional selves and rails into discreet nooks wherever possible.
You could also consider installing fixed seating rather than having too many chairs.
10. Invest in functional furniture
Where you can choose furniture with a dual purpose, such as a bed with storage underneath.
You should also look critically at the space you have and consider how specific furniture will enhance the functionality of the room.
For example, two smaller coffee tables side by side rather than a single larger and imposing one would be a better option and provide better flexibility in future.
It's all about working with what you have, taking these basics into account and understanding what works for you, your life and your home.