Back
5 home extension ideas for your new home
When you move into a new home there are endless possibilities for using the space, plus you'll want to put your own mark on the place, through the décor you pick, the furnishings and accessories. But many new home owners like to make an even bigger mark. Some like to change things around, knocking through and turning two rooms into one, for instance. It could be that you need more space, if a family member comes to stay long term or you have a new addition (be it a child or pet). Here are some home extension and conversion ideas you might want to consider:
1. Extending your kitchen
If you'd like a bigger kitchen/family room, you may want to consider adding an extension to the back of your property. Bi-fold doors onto the garden can help bring the outside in and add a really contemporary touch. It can be worth looking at how much extra it would be for a two-storey extension, especially if you're likely to need an extra bedroom in the future.
2. Adding a utility room
Some properties don't have a utility room, or have a petite one just for the basics (washing machine and dryer etc.) If you have a large family and would like room to dry all your clothes on hangers in your utility, an extension down the side of property might be the answer as it won't compromise on your garden. Likewise, a utility room can be a great space for dogs and other pets, especially if there's a wet room attached for when they get muddy.

3. Converting your garage
A typical single garage conversion costs between £5,000 and £8,000, with a double garage conversion costing upwards of £13,000 (plus VAT). If your garage is attached to your property, you might decide to turn it into a second sitting room or playroom. If it's separate, perhaps at the back of your property, it could become a home office or retreat for older children craving their own space. A converted garage could be the perfect annex too, this new space could be
4. Converting your loft
A loft conversion can add up to 10% to the value of your home and typically costs between £15,000 – £40,000. They can be ideal if you want to add an extra bedroom and/or bathroom. They can be an adults-only sanctuary at the top of your house, or a bedroom for a teenager or child. Converted lofts also make good games rooms and cinema rooms. There are four main types of loft conversions to consider:
Roof light conversions: Often the cheapest option, a conversion that is built within the existing roof line of the property. They don't create much extra space, but turns your loft space into a habitable one.
Mansard conversions: Typically situated at the rear of a property, this type of conversion has a flat roof and extends the peak of the roof back to create large extension. The large structural change typically requires planning permission but the extra space is large enough to suit many purposes and even work as a large master bedroom.
Dormer conversions: Conversions of this type create the maximum floor space possible, they extend flat from your roof's peak with a flat top and right to your home's boundary.
Hip-to-gable conversions: Most properties have a 'hipped' roof, which often means lofts aren't the width of your home and are very narrow, without much headroom. This extension replaces the slopping roof and extends the height of your roof from one end of your property to the other.
5. Adding a conservatory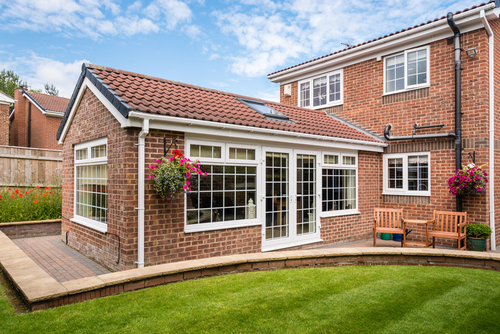 A conservatory can be a cheap way of extending your home downstairs. They cost on average between £4,000 and £10,000, and can add up to 5% of the value of your home. When deciding which type to get, you'll need to consider what it will be used for. Will it be used all-year round or just on sunny days? Do you want to make it part of your living space by knocking through or will it be kept separate? What is your budget? An orangery with a lantern-shaped ceiling, for instance, is going to cost substantially more than a standard conservatory. While orangeries aren't too dissimilar to conservatories, their brick walls and insulation mean they maintain their temperature throughout the year, especially during the winter months when a conservatory might otherwise get cold.
Another way of extending your home would be to build an external garden building. These bespoke spaces are often used as a home office, summer house or even a full annex (where space permits). They can be set up with basic utilities electricity and heating to make them feel like a natural extension of the home without building works. Some companies build to purpose and other will deliver a DIY packs for you to build yourself if you want to save on costs. We hope you've enjoyed reading through our ideas and they've inspired you to think of ways you could extend your living space in the future. Whether you decide to extend or convert in the short term or long term, make sure you do as much research as possible beforehand.