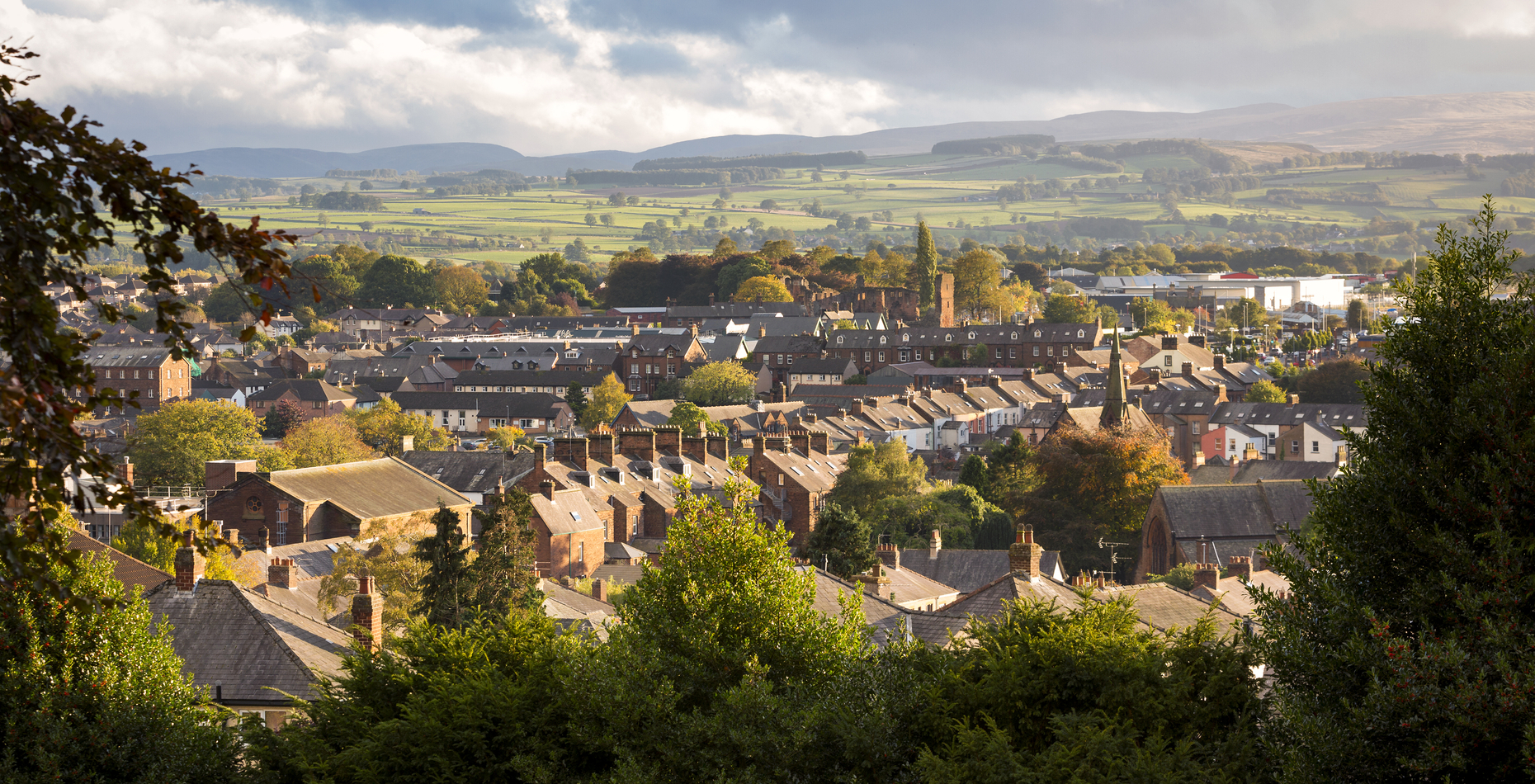 New homes in Cumbria
A region known for its rural scenery, beautiful coasts and quaint towns
Whether you're browsing independent shops in Kendal, hiking up England's highest peak Scafell Pike or enjoying traditional seaside fun at Morecambe Bay, Cumbria is a region that's full of surprises. So no matter which area you move to, you'll always be close to beautiful countryside, friendly villages and plenty of family attractions.
Cumbria through the ages
Cumbria's history stretches all the way back to 11000 BC, with evidence of ancient human settlements found at Kirkhead Cave. Later during the Mesolithic period from 9,600 until 4,000 BC, settlements began cropping up along the coast as the climate got warmer, including at Morecambe. There are lots of Neolithic finds in Cumbria, especially stone monuments and axe heads, such as Ehenside Tarn close to Beckermet where ancient deer bones were also found. There are also Mesolithic sites near Keswick, Penrith and Glassonby.
There is lots of evidence of Iron Age settlements in Cumbria, including the hill fort at Maiden Castle, while the Romans later invaded the region around 70 AD. Hadrian's Wall was built from 122 AD, starting at Bowness, while the Dark Ages gave rise to the legend of figures such as King Arthur who has links to Cumbria.
Fast forward to the Viking era, and Cumbria was invaded by the Norwegians, which is reflected in the etymology of many place names in the area. By late Medieval times, The Scottish Wars of Independence led to another invasion of Cumbria, while the Wars of the Roses also affected some regions. By the 18th century, Cumbria became known for the beauty of the Lake District, with early travellers coming to visit and eventually attraction poets including William Wordsworth and Samuel Taylor Coleridge. The National Park was established in 1951, and Cumbria is now a major tourist destinations for at-home 'staycations' as well as visitors from other countries.
Must-know info for families
If you're moving to Cumbria with a family in tow, it's worth knowing that the region has some very good schools including Queen Elizabeth School in Kirkby Lonsdale, Dallam School in Milnthorpe and Ulverston Victoria High School. It's also home to higher education institutions including the University of Cumbria which has campuses in Lancaster, Carlisle and Ambleside.
Places to see and things to do
When it comes to family entertainment, there's no shortage of things to do and places to see in Cumbria. Some of the most popular attractions include the South Lakes Wild Animal Park in Dalton-in-Furness, Lakeland Motor Museum in Newby Bridge, The World of Beatrix Potter in Bowness-on-Windermere, and Wordsworth House and Garden in Cockermouth.
Other great places to take the whole family include Carlisle Castle, Lakeland Climbing Centre, Lake Windermere, and Ravenglass and Eskdale Railway. If you love getting out and about in the great outdoors, Whinlatter Mountain Forest, Talkin Tarn Country Park, Brockholes Lake District Visitor Centre and the Pennine Bridleway National Trail are all well worth a visit.
What about business?
Although Cumbria is a relatively rural region of northern England, there are still a number of big employers in the local area, especially around manufacturing. BAE Systems have a presence in Barrow-in-Furness, while there are a number of factories in Carlisle including the Pirelli factory, the Nestle factory and the McVitie's factory. Retailer Lakeland Ltd is also located in Windermere.
For travel
For commuters, the M6 provides a quick and easy route travelling north and south by car through Cumbria. A journey from Kendal in the south of the county to Carlisle in the north takes 1 hour driving via the motorway, while the train from Oxenholme to Carlisle takes just over 30 minutes.
If you're travelling to London, the quickest way to reach the capital from Cumbria is by train. From Carlisle, the direct Virgin Trains service takes just 3 hours 25 minutes to reach London Euston, which is much quicker than the equivalent 5 hour 15 minute journey by car. Cumbria's only airport is in Carlisle, while the closest major airports are in Manchester and Glasgow.