Back
8 things to consider when choosing your kitchen fittings
If you can get this right, then your kitchen will truly be the heart of the home. But if you get it wrong, then it might frustrate you every day. We spend so much time in our kitchens, they need to be a practical space, but also the ones we enjoy relaxing in.
From choosing the right kitchen tiles and cabinet style, to finishing with lighting and accents, here are eight things to think about before you make any plans.
1. Decide how much you need to do
Do you want to just spruce things up a little or are you going for a complete overhaul? If it's the former, there are quick and easy things you can do to make a big difference. If it's the latter, you'll need to scrutinise the variety of fittings on offer to get the look you want.
2. Make the best use of lighting
This applies to both an overhaul or just an update. Installing spotlights in or under cabinet lights will create a modern look without too much change. Alternatively, simply hide some fairy lights above your top cabinets for an instant halo-glow effect at minimal cost. In a more radical kitchen overall, you'll want to consider whether you should change the type of ceiling light fitting to suit your new look.
3. Consider your flooring options
Ceramic tiles, laminate, stone, or hardwood floors all work well in the kitchen. Your choice will need to reflect your theme, for example traditional hardwood may be too dark for the kitchen. Simply whitewashing the wood would make the space feel light as well as creating a country kitchen look. Tiles and stone work the best with underfloor heating, although may be too hard if you have smaller children. Laminate is a cost-effective option and with a variety of styles, you'll be able to find something that matches your chosen look – just be aware that it can scuff with heavy foot traffic and use.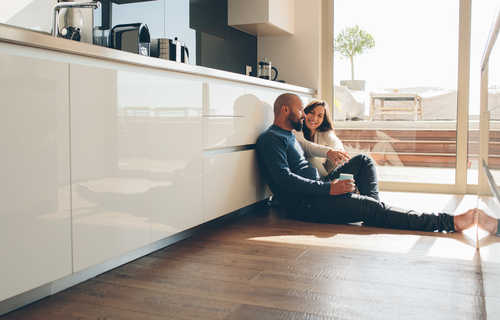 4. Pick a timeless colour scheme
If you want a kitchen look that lasts, not only should you pick hardwearing materials for your floor and worktops, also opt for a neutral colour scheme that will stand the test of time. If you want to bring some personality in, go for quirky accessories and pictures rather than the colour of the walls or cabinets.
5. How will it be used
Are you a clumsy cook? Do you like to make a bit of a mess when you're creating in the kitchen? If so, choosing a material like granite for your worktop would be a good choice as it's difficult to scratch and doesn't stain in the same way that wood can. Your own personal needs and those of your family, should also impact on the design of the space. If it's a place for entertaining, install a breakfast bar if you have room, or a sofa and comfy space so people can chat while you're cooking.
6. Evaluate your options
Don't always go with the first suggestion. Think things through and make an informed decision. For example, you may initially consider a splash back for your cooker, however, using kitchen tiles may be a cheaper option. You can also use them to create more of a flow throughout the space rather than breaking it up with a splashback.Layout is key to how your kitchen will function. You may prefer the radial circulation offered by an island, rather than the bar you originally planned to section your kitchen space off. While the stand-alone appliances you'd set your eye on may work better as integrated features. Don't be afraid to reassess what you've had in mind up until now.
7. Create a flow
Kitchens, no matter the size should always flow. This means that you're able to do similar tasks in the same area without moving around. For example, you should have chopping space next to the oven, the fridge should be near the cooking station, and you'll need a "wet" station for your sink and dishwasher. Although islands can be a great focus point in a kitchen, they can end up obstructing the flow from one side of the kitchen to another.
8. Use the space you have
If your kitchen is in on the smaller side, with space at a premium, there are things you can do to work with what you have. Go for more retro options like an old-style fridge rather than a bulky modern one and look at design features that serve multiple purposes. Recent kitchen innovations that work in this way include drawers that pull out to reveal extra worktop surfaces, and cabinet doors that fold horizontally and work as a table. You should also make the best use of any nooks and crannies by installing corner units with pull-out shelving and a pull-out vertical larder at your cabinet end – they're a great space saver.
You should also make the best use of any nooks and crannies by installing corner units with pull-out shelving and a pull-out vertical larder at your cabinet end – they're a great space saver. You can even save on space in your utensils. Pans that share a removable handle, plus bowls and containers that nest together neatly, are commonplace in high street stores. Whatever your kitchen goals, take your time, run through our list and start planning your perfect space.