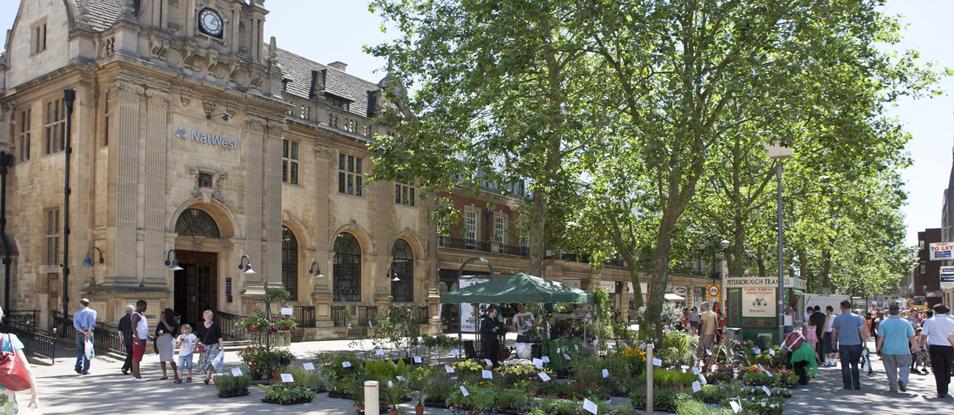 New Homes in Peterborough
With a stretch of attractive North Sea coastline in the east of Scotland, Fife runs from the Firth of Tay in the north to the Firth of Forth in the south. From major towns such as Dunfermline and Kirkcaldy to a collection of smaller villages and beautiful coastal spots, new homes in Fife can also offer wonderful access to neighbouring cities such as Edinburgh and Stirling.

Whether you're visiting famous seaside towns like St Andrews, sampling the local Scotch whisky in Glenrothes or exploring the region's lochs, mountains and other natural draws, don't miss our developments closest to Fife below.
A famous cathedral city on River Nene, Peterborough is a former industrial centre enjoying a commercial renaissance, thanks to major regeneration investment.
Only forty minutes from London by train, Peterborough is well known as a major railway station, where a number of cross-country routes from all over the UK converge. In recent years Peterborough has developed a reputation in the areas of Financial services and distribution.
Culture and sport
Peterborough Cathedral is one of the most intact large Norman buildings in England, renowned for its impressive early English Gothic architecture.
It's also historically significant, as it's the burial place for Katherine of Aragon and , both important figures in English history.
Peterborough Museum and Art Gallery is home to many examples of local archaeology and social history. Located in one of the city's most historic buildings, the museum has an abundance of stories and interactive displays. There's a staggering 200,000 items of national and international importance within its walls.
When it comes to playing or watching your favourite sport, Peterborough has many opportunities to indulge your passion.Its most famous team is the giant-killing Peterborough United Football Club. However, there are many different sports enjoyed by locals including Rugby, Cricket, Hockey, Rugby League, Ice Hockey, Rowing, athletics, and even Australian Rules Football. The Peterborough Phantoms Ice Hockey team play in the English Premier League, while the Peterborough Panthers speedway team compete in the Elite League.
Shopping and dining
For the shopping enthusiast, rel="noopener noreferrer" there are plenty of stores to enjoy. For all the big fashion and entertainment brands, The Queensgate Shopping Centre has you sorted with over ninety shops and 15 places to eat. The Rivergate Shopping Centre is a popular destination for groceries, while Peterborough City Markets offer a variety of fresh produce and rare bargains.
Anyone looking for homes to buy in Peterborough will be delighted to find rich pickings when it comes to eating out, or enjoying a night out; making for a very rewarding evening.
Travel
Situated just off the national A1/A1(m) motorway, Peterborough is ideally located to both London and the North of England.
Well rel="noopener noreferrer" known as a major stop on the East Coast Main Line, it's a mere 45 to 50 minutes' journey from Peterborough to central London; with high-speed intercity services from King's Cross to Edinburgh Waverley arriving every 20 minutes.
Other services from Peterborough will take travellers to Lincoln, Doncaster, Liverpool Lime Street, Cambridge and Birmingham.
International flights from East Midlands Airport, London Stansted, Luton and Norwich are easily accessible.
Learning
If you have children and you're thinking of moving to the area, there are an abundance of education establishments for children of all ages to attend. Some great primary schools include John Clare Primary School, Barnack CofE Primary School and Heritage Park Primary School, which all ranked in the top 10 primary schools in the area. Whereas The King's School, Jack Hunt School and the Thomas Deacon Academy are considered some of the better high schools around.
Nearby Locations
Locations Nearby Peterborough