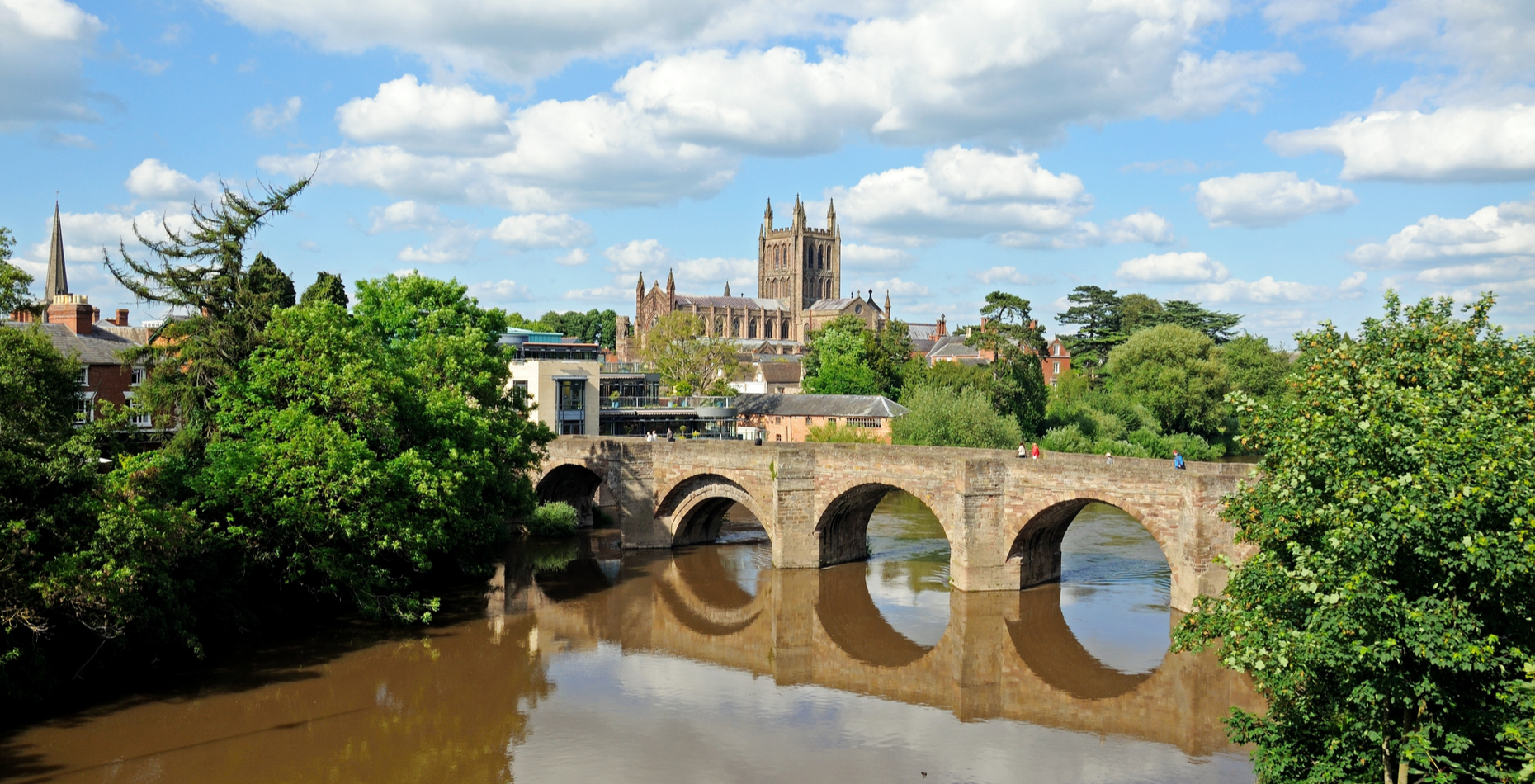 New homes in Hereford
Live the Life
Located on the River Wye and just a short drive from the Welsh border, the cathedral city of Hereford is a vibrant place to live, with lots to see in the local area. Whether you're shopping in the city centre, watching a performance at the theatre or enjoying a relaxing coffee at one of the many cafes, there's no shortage of things to see and do close to your new home in Hereford.
Things to see and do
Hereford is home to lots of great shops, from high street stores in the pedestrianised centre to local sellers at the revamped Old Market. There are a number of museums in the city, including Hereford Museum and Art Gallery, Hereford Cider Museum and The Waterworks Museum, while Hereford Cathedral is home to Mappa Mundi and the Chained Library Exhibitions.
Beyond the city, the National Trust's Berrington Hall is a great place to spend a morning or afternoon exploring the house or walking through the landscaped gardens, or you can take a tour of Chase Distillery to find out how their vodka and gin are made.
If you're a fan of horse racing, Hereford Racecourse hosts regular meets throughout the year. For countryside walks, The Herefordshire Trail is a long route passing through Ledbury, Ross-on-Wye and Leominster, or you can play a round of golf at Halo Leisure Golf Course, Burghill Valley Golf Club or Brampton Golf Course.
Education
If you're moving to a new home in Hereford with school-age children, there are a number of 'Outstanding' schools as rated by Ofsted including Marlbrook Primary School, St Paul's CofE Primary School and Fairfield High School.
For independent education, private schools and colleges in or near the city include Hereford Cathedral School, Hereford and Ludlow College, and Hereford College of Arts. The Steiner Hereford Academy is just a short drive away. Hereford University Centre is part of the University of Worcester.
Getting to Hereford
Hereford is well-connected to the rest of the UK by train, with regular services from the city's four platform station to the likes of Birmingham, Manchester, London and Cardiff. The journey to Hereford from Gloucester takes 55 minutes by car, while the journey from Cheltenham takes one hour five minutes. Travelling from Worcester, Hereford can be reached in 55 minutes by car or 45 minutes by train. Newport is one hour five minutes away by car or 50 minutes by train
Travelling further afield, Birmingham is one hour 45 minutes away from Hereford by car or one hour 30 minutes by train. London can be reached in three hours 10 minutes by car via the M4, or two hours 50 minutes by train to London Paddington, changing at Newport.
If you're going on holiday or taking a business trip, Birmingham Airport is one hour 30 minutes away by car. If you don't want to park your car, the train from Hereford takes one hour 50 minutes, changing once at Birmingham New Street.